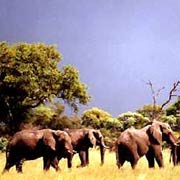 Northern Botswana is arguably the most prolific wildlife region in Africa. The 232 000 hectare Kwando Wilderness Concession fronts eighty kilometres of the Kwando River, which divides north-western Botswana from the Caprivi strip in Namibia. It incorporates the Linyanti Wetlands, huge tracts of Mopane woodlands and vast open plains. This diversity of natural habitats makes Kwando Wilderness unique, drawing wildlife and birds in abundance.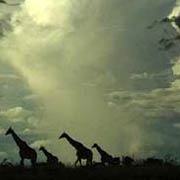 Kwando offers exclusive access to one of the most remote and unexplored wildlife strongholds left in Africa. Huge herds of elephant and buffalo roam the plains adjoining the Kwando River, whilst lion, leopard, cheetah, wild dog and sable are frequently sighted offering a superb quality wildlife experience that is remote, private and personal.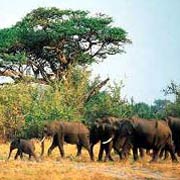 Kwando comprises Lebala and Lagoon Tented Camps, situated along the river. Together they accommodate thirty-two guests. The Kwando experience includes open vehicle and walking safaris, as well as a variety of boating activities on the Kwando River.

Lagoon Camp
Shaded under massive African Ebony trees, situated centrally in the extensive Kwando wilderness, is Kwando Lagoon Camp. Kwando Lagoon Camp comprises six spacious purpose-designed tents with views over the private lagoon formed by the ever-changing Kwando River. Each tent comprises a bedroom area with a spacious bathroom en suite. A small plunge pool is available to cool off during the long summer days, whilst the resident hippos entertain our guests as they sit in the deck chairs in front of their tents. Each tent has a view over the peaceful lagoon and reed beds that lead to the Kwando-Linyanti flood plain system. This system is an intricate labyrinth of waterways, reed beds, islands, floodplains, bush, scrub and trees.
General game graze on the wide flood plains in spectacular scenery under the ever-watchful predators. In the dry season Lagoon offers a mega fauna experience unmatched in Africa with sightings of up to 1 000 elephant in a single game drive. The lion prides regularly hunt elephant in this remote region, a habit undocumented elsewhere in Africa. Herds of up to 2 000 buffalo also attract the attention of lion and hyena and our trained guides scan the horizons for the dust generated by thousands of buffalo hooves.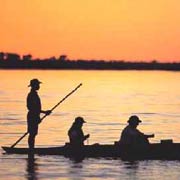 The night drives present a drama of epic proportions when the buffalo move through the parched floodplains. Packs of wild dogs also provide excitement for many months when they have pups, motivating them to undertake action packed hunts twice a day. Lagoon Camp is peaceful and wonderful in summer, savage and wonderful in winter.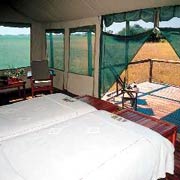 Lebala Camp
Hidden in the Southern portion of the extensive Kwando Wilderness is Lebala Camp. Kwando Lebala Camp comprises 16 beds in 8 luxurious en-suite tents, on Zimbabwe teak decks. The camp has been built with privacy and service in mind.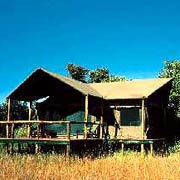 Lebala is the Tswana word for 'wide-open plains' and each tent has spectacular views over vast tracts of African plains and wetlands that comprise part of the Kwando-Linyanti flood plain system. This system is an intricate labyrinth of waterways, reed beds, islands, floodplains, bush, scrub and trees.

Excellent general game abounds on the broad plains creating spectacular scenery, adorned with herds of plains game and the ever-attendant predators. Lebala is famous for elephant sightings as is neighbouring Lagoon Camp. Lebala complements the Kwando Lagoon experience by offering a spectacularly different setting, scenery and experience from that offered by Lagoon.