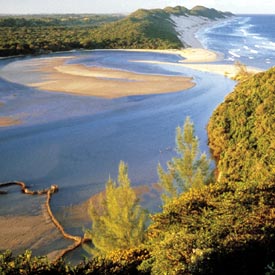 Nestling in South Africa's last undiscovered wilderness, Maputaland, Kosi Forest Camp offers guided canoeing through the Kosi Lakes, turtle tracking, iLala palm wine tasting and birding in the Sandveld and Raffia Palm forests.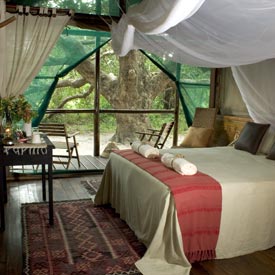 Kosi Forest camp is ideally situated to explore the entire Kosi Lake system, which is the most pristine estuary and coastal lake system in South Africa. Of special interest are the traditional fish traps, which trap the marine fish on an ebb tide in the lake, providing the local people with a regular source of protein. Snorkelling the tiny reef at Kosi mouth is an exquisite tropical underwater experience.

Situated in the Kosi Bay Nature Reserve in northern KwaZulu Natal, the sixteen-bed lodge is an ideal base from which to enjoy this remote wilderness. Eight thatched bush suites, hidden in the Sandveld forest, feature en-suite, open-air, reed enclosed bathrooms. Candlelight bush dinners under the stars, picnic lunches on the nearby sea shore, the eerie atmosphere of the Raffia Palm forest and canoeing in the black hippo waters of the fourth lake or the crystal-clear turquoise waters of the third lake, are all part of the exceptional experience at Kosi Forest Camp.