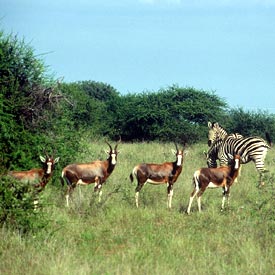 The Limpopo River Valley and the far northern province of South Africa is a vast and untapped ecotourism region. It has all the potential to develop this into one of the best safari regions in southern Africa. Mogalakwena is an example of progressive conservation endeavour. The reserve currently has two parts to it, a riverine property on the Mogalakwena River, which runs through the property, as well as a mountain reserve, which has to have some of the more magnificent view sites in the far north.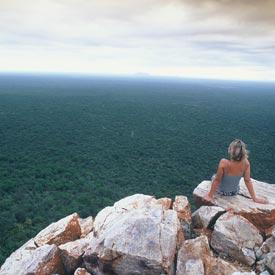 The lodge can accommodate up to 16 guests in eight suites, all facing onto the Mogalakwena River. Each suite has been decorated using the natural tones so prevalent in the bushveld. The central lodge has four of the suites, a central fire, boma and outdoor kitchen area as well as having the bar and two dining and relaxation areas. The decks and swimming pool are ideal for relaxing and viewing some of the spectacular birdlife on the river.

The lodge offers game drives and walking safaris on both the river as well as the mountain properties. It is well worth a visit to the top of the mountain, to sit and relax and take in some unique vegetation, including the 'elephants foot' and the many baobabs on the reserve.

Mogalakwena is great for weekend getaways and small conferences. The experience is warm and friendly and superbly managed.