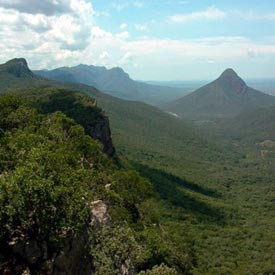 Leshiba Wilderness lies in a hidden valley on top of the Soutpansberg mountains in Limpopo Province, one of the country's most unique bio-diverse environments. Transcending expectations, this private reserve is something special, family-run, offering a uniquely African experience with luxury touches, warm hospitality and rich memories. Leshiba offers a unique, authentic and holistic African experience.

Climb above clouds and walk with rhino in a diverse mountaintop environment. Stay at the Venda Village Lodge, unlike anything else in Africa; a hand sculpted, luxurious, artistic wonderland. Activity trails, horse riding, rock art, game viewing, astronomy, and more.

The Venda Village Lodge is an authentic traditional village re-created by internationally renowned artist Noria Mabasa. This artistic wonderland of sculpted walls, seating areas, figures and entrances breathes the mystical spirit of Venda. Sculpted sun-baked courtyards open up to en-suite African style huts. Luxury suites, Mwedzi and, Duvhaoffer a romantic and secluded stay with private plunge pools and patios overlooking the animals grazing on the plain below. Hamasha Bush Camp offers self catering accommodation for 8 people and is nestled in an amphitheatre of high cliffs, with magnificent views through the gorge to the north.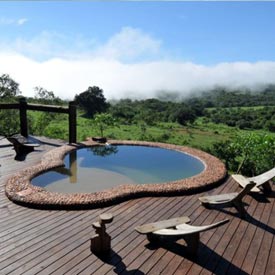 Leshiba is a unique reserve with an abundance of wildlife, including white rhino, giraffe, the rare brown hyena, porcupines, pangolins and the elusive leopard. Excellent birding with over 250 species, including Verreux and Crowned Eagle, Cape Vulture, Purple Crested Turaco. Be treated to an African Eden as all the animals gather in the vleis in the early mornings and evenings. For an experience which reflects the soul of Africa, visit ancient rock art sites, walk along the marked trails over open plains or under dense canopies of indigenous forest or hike down rocky gorges, join a game drive, take a horse ride or mountain bike within our hidden valley.

Rejuvenate the soul with holistic healing in the form of massage using an indigenous range of local massage oils, Reiki or crystal healing treatments (by prior arrangement only).