Zambia has the smallest slice of the Southern part of Lake Tanganyika with Tanzania and The Democratic Republic of Congo having the longest shorelines. The lake has played a pivotal role in the history of Africa over the millennia as a central migration and transportation route, a route of discovery and exploration, slavery, involvement in the World wars of the 20th century and as home to a host of endemic fauna and flora.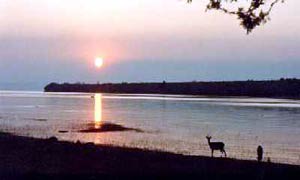 Kasaba Bay was visited by the Famous Explorer David Livingstone in 1867 and the quote "an area of unsurpassed loveliness" is attributed to him. Ujiji, Tanzania, on Lake Tanganyika was also the site of Livingstone's famous meeting with Stanley "Dr Livingstone, I presume". Livingstone's death occurred South of Lake Tanganyika while exploring Lake Bangweulu in 1873. His porters carried his body one thousand one hundred miles to Zanzibar and his final resting place is in Westminster Abbey.

Around the middle of last century Nsumbu was the centre of the Slave Trade in this area and the unfortunate souls rounded up were hauled off across Tanzania to Zanzibar by the infamous Slave Trader "Tippo Tip". The legacy of the Arab Slaver still lives on in the facial features of the inhabitants and the design of their Boats.

Lake Tanganyika, Zambia, is part of Africa's Great Rift Valley, world-renowned for its fish species diversity. The deep, clear, warm waters of this hidden and secret end of Lake Tanganyika is the perfect breeding ground for the 600 Fresh Water Fish Species. Lake Tanganyika has a high Lime content and there is still Geo-thermal activity taking place along the Great Rift Fault Line, perhaps accounting for the Lake's minimal variation in Water Temperature throughout the year and why there is good Fishing all year round.

The Lufubu River forms a boundary of the Nsumbu National Park, which creates a unique birding wetland and home for a host of rare and unusual African migrants. Guided walks and trails are with Nsumbu National Park Scouts. The Lufubu River is one of the few rivers on the African continent used by the Tiger Fish as a spawning ground. The unofficial Lodge Record is 58 kg (or 127 lbs) for a 4 foot long fish. These rare and elusive fish are the Ultimate Lake Predators and worthy of inclusion on a world Game Fish List.