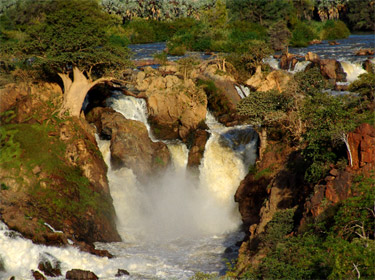 The rugged north-western corner of Namibia known as the Kaokoland, is a wild and untamed sector of the continent. This vast and awesome region forged over the millennia by the forces of nature, has resulted in a dry, parched landscape hostile to all other than those creatures specially adapted to survival in the unforgiving landscape. The Himba people, probably the most unchanged of indigenous cultures in Africa, still exist in tandem with nature in this extraordinary wilderness.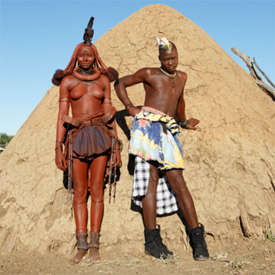 Epupa Camp is situated east of the magnificent Epupa Falls, overlooking the rapids through which the Kunene River flows.
It is a small luxury tented camp accommodating eighteen guests. Each tent is fitted with electrical lights and mosquito netting with en-suite bathroom facilities.
The Epupa Falls offer wonderful photographic opportunities, whilst a visit to the Himba Village provides a fascinating insight into an ancient lifestyle and culture, and full day and half day canoeing trips are available on the Kunene River.