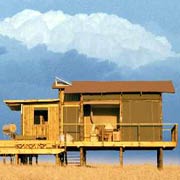 NamibRand, fringing the eastern boundary of the Namib Desert, is one of the largest private conservation areas in southern Africa. For centuries the sands of the Namib have moved back and forth across this region covering, and in turn exposing, spectacular desert landscape scenery. In close proximity to Sossusvlei, NamibRand's wide sand and gravel plains, and endless expanses of savannah, alternate with impressive mountain ranges and red dune belts. NamibRand is also host to oryx antelope, springbok, ostrich and zebra as well as smaller desert animals such as jackal, bat-eared fox and a variety of birds.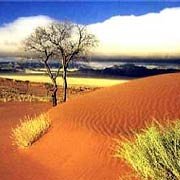 Wolwedans will introduce you to unique and unusual vegetation, the geology of the desert and some of the desert's fascinating creatures. You can explore the area in the company of specialist guides by road, on foot or from the air. Wolwedans will educate and inspire your soul and leave you replete with an enduring memory of the haunting beauty of this arid yet magnificent place.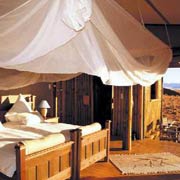 Dune Lodge
Wolwedans Dunes Lodge aims at providing a unique experience close to nature, yet without compromising comfort and style. The entire lodge is constructed on wooden platforms and overlooks panoramic vistas in all directions, capturing the desert in an intimate and memorable way. The building style is a combination of wooden poles and large canvas blinds/windows that open up to the desert beyond. The lodge reflects the ambience of a tented camp, but provides the comfort and protection of a permanent building. Each of the eight spacious Chalets with en-suite bathrooms leads onto a private verandah and stretches of untouched sand.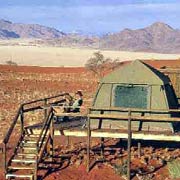 Dune Camp
Located on the very edge of a 250-meter high dune, this Camp overlooks the prominent Losberg Mountain towards the east. Heading west, the Chateau viewpoint - one of the reserve's most enchanting panoramas - can be reached by foot in less than five minutes. A sundowner in the dunes, facing the sun as it sets over the Bushman Hills, is an experience to share with someone close.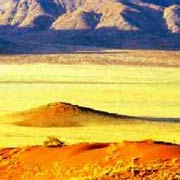 The Camp sleeps a maximum of 12 guests in a totally unspoilt setting. Guests stay in comfortable tents pitched on wooden platforms and these are furnished with standard beds, bedside tables and a suitcase rack. Each tent has a spacious verandah and a private bathroom fitted with a hot shower, washbasin and flush toilet. A spacious 'lapa' serves as a meeting place for sundowners, dinner and breakfast.

Private Camp
Situated in the quiet seclusion of an idyllic valley, this splendid Suite catering for two guests is the perfect getaway for honeymooners or individuals seeking uncompromising privacy and solitude. The idea of the Private Camp is to get away for a day or two - not doing much except relaxing and spending quality time with a partner. Guided activities are not part of the package and the emphasis is on pure relaxation.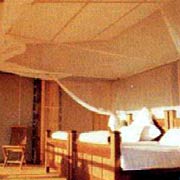 Browsing through the library, taking walks in the plains and preparing your own meals (we supply all foods and beverages, you cook and serve 'entre nous') will keep you fully occupied. It is recommended that guests, who have not been before, book the Private Camp in combination with a night at the Lodge or Dune Camp, joining some of the activities before seeking total seclusion.

The Suite comprises a spacious bedroom, en-suite bathroom, a verandah and the lounge, combining a study, a living-room arrangement, a dining area and a fully equipped open plan kitchen. The building style is a combination of wood and canvas, and the carefully selected furnishings bring alive the true romance of Africa. The Camp requires a minimum stay of two nights and is only available from 15 April to 15 October. The Private Camp can also be booked with all services and activities included, for example a private chef and your personal field guide.