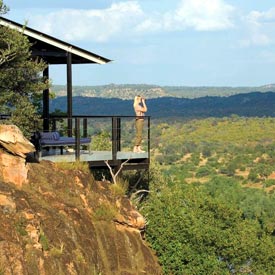 The Outpost lies in a vast wilderness area in the northernmost part of Kruger National Park. This region, called the Makuleke Region, is bordered to the north by the Limpopo River and Zimbabwe and to the east by Crooks Corner and Mozambique.

Italian-born architect, Enrico Daffonchio, designed The Outpost. Using simple, clean lines and combining elements of steel, concrete and open space, the unashamedly contemporary design of The Outpost emphasises its beautiful surrounds but blends and preserves the wilderness that is its home.

On arrival guests are welcomed into the main building and are treated to the openness and extensive views that embody The Outpost. The modern bar is a focal point and defines the lounge and dining areas. This area leads off to the swimming pool deck with large lap pool.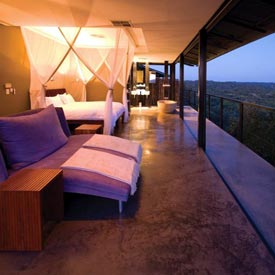 The Outpost comprises one large main building and twelve stand-alone living spaces set against the side of a hill overlooking the Luvuvhu River, all connected by a half kilometre long walkway made of Zimbabwean teak. The contemporary design of each Space makes use of concrete and steel with retractable remote controlled screens which may be opened to offer 180-degree views of the river valley below, or closed depending on the weather. The living area of each Space comprises an outdoor terrace with daybed, indoor lounge and bedroom with king size bed under mosquito netting. The award-winning en-suite bathrooms offer full views of the surrounding bushveld, or can be screened off for privacy.

The region measures some 28 000 hectares and is home to large herds of elephant and buffalo. The mountainous terrain is attractive to leopard and the region has resident prides of lion. Rhino were recently reintroduced and guests visiting The Outpost are likely to see nyala and tsessebe antelope which are not easy to find elsewhere in the Kruger National Park. The diverse terrain of the region includes mopane woodlands, fever tree forests, acacia thickets and some of the largest and oldest baobab trees.