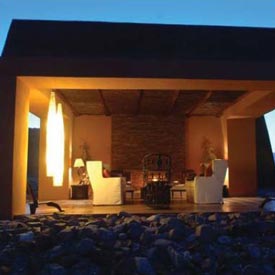 Okahirongo Elephant Lodge is situated in Kaokoland, often described as one of the last truly wild areas in the North West of Namibia and it features beautiful mountain landscapes and rugged tranquillity. Located within the harsh desert wilderness region Okahirongo is the only place in the world where elephants, black rhino, giraffe and lion live in a desert environment.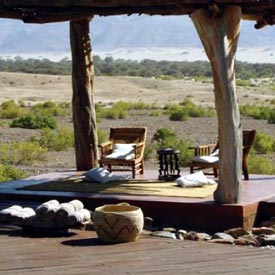 Okahirongo Elephant Lodge is currently operated as a 'high quality' nature and safari experience based in the Purros district of northern Namibia's Kaokaland region.

The lodge consists of 7 luxurious en-suite chalets as well as a suite with two rooms and a combined living area, each with wraparound views of the desert terrain.

Activities at Okahirongo include morning tracking, afternoon sunset and evening nocturnal drives, walks along the Uarosib River and surrounding mountains. Highlights are tracking the rare desert-adapted elephants or visiting a nearby Himba village.