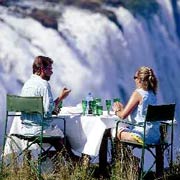 The Victoria Falls and its superb natural surroundings is undoubtedly one of the most magnificent natural spectacles in the world. Fed by the giant Zambezi River, the falls are admired by thousands of visitors each year who travel to this remote corner of Africa to experience 'Mosi-oa-tunya', or 'the smoke that thunders'. The river and the falls experience many moods, with the graceful flow above the falls contrasting sharply with the savage and deafening roar as the water plummets into the gorge below.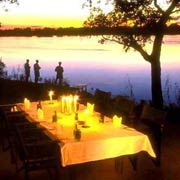 Situated on the banks of the Zambezi River, twenty kilometres upstream from Victoria Falls, you will find Tongabezi. Situated on a sweeping bend in the Zambezi River, within a tranquil grove of trees, the lodge accommodates twenty guests in tented cottages and spacious open-plan thatched cottages. The open-plan cottages each have their own architectural style unique to their specific environment.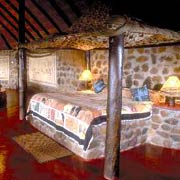 As with all destinations at Victoria Falls, activities revolve around the river. These include sunset cruises, game drives, canoeing, cultural visits, fishing and visits to Victoria Falls, which can be viewed from both the Zimbabwean and Zambian banks of the river. A three course meal complete with champagne served on Livingstone Island with the waters of the Zambezi deluging into the chasm of the falls all around, is an unforgettable experience exclusively available for the guests at Tongabezi. For the more adventurous guest, white water rafting or bungi jumping off the Victoria Falls bridge is a must.