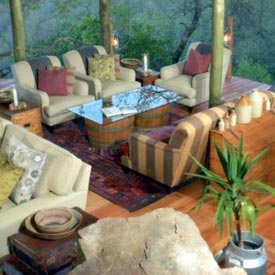 Madikwe Game Reserve is one of the few reserves in southern Africa, which is malaria free. The reserve lies within a transition region between lowveld bushveld and the Kalahari thornveld, resulting in an incredible diversity of species. Enormous volcanic intrusions known as Inselbergs, are prominent throughout and provide a spectacular backdrop to the reserve.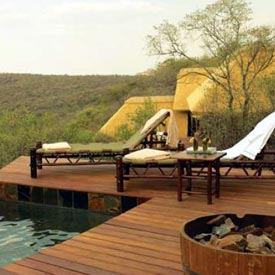 Buffalo Ridge Safari Lodge is situated on the Tweedepoort Ridge overlooking the plains and inselbergs of the western section of Madikwe.

The lodge is spectacularly positioned on two tiers of the ridge, accessed via a wooden bridge that crosses a ravine surrounded by rock figs.

The lodge accommodates 16 guests in 8 suites, each with their own viewing deck, decorated in natural hews of colour and texture, offering a very private and luxurious experience. Madikwe is home to a tremendous diversity of fauna and flora, including both the black and white rhino, buffalo, elephant, lion, leopard, cheetah and wild dog.