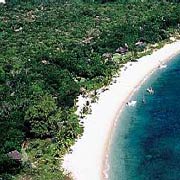 Along the historical Mozambican channel, opposite Vilanculo on the mainland, lie a chain of 5 islands that broke away from the mainland 25 000 years ago, Bazaruto, Benguerra, Magaraque, Banque and Santa Carolina. Benguerra Island is approximately 11 kilometers by 5 kilometers, and the forest, savannah and wetland eco-systems sustain a diverse population of fauna and flora on this idyllic island getaway, which was declared a National Park in 1971.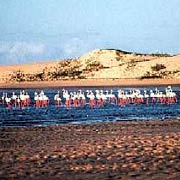 Situated on a bay on the protected Northwest side of the island, the lodge is built to merge into the indigenous Milkwood forests. Using local material, the lodge is flanked by secluded chalets, which are built on stilts, with wooden floors, woven reeds walls and thatched roofs with the chalets all having views overlooking the beach and sea.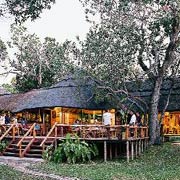 The lounge, dining room and bar area is separate, with large airy patios and overlooks the beach and sea across lawns and trees where attractive red-tailed squirrels play and over 100 species of birds can be seen. Most of the meals are fresh from the sea, with delicacies such as crayfish, crab and calamari. Meat dishes and beach barbeques are also prepared - with tables set under the palms. Enjoy your meals next to empty white beaches lapped by brilliant turquoise seas. Benguerra Island Lodge is the ideal island getaway, offering secluded beaches, warm tropical waters, good snorkelling and diving, fishing and some wonderful walking opportunities.