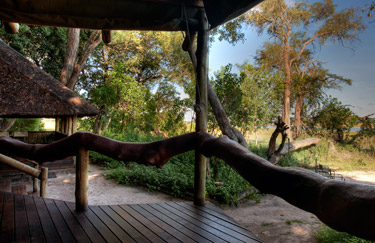 The Okavango River is fed by clear mountain streams rising in central Angola and flowing southward through the Caprivi into the Panhandle of northern Botswana. The river in its search for a channel is forced into the deserts of central Botswana where it fans out and forms the wetland oasis we know as the Okavango Delta. The delta is unique in its formation and its life-giving waters, in the midst of arid desolation, provide a refuge that attracts wildlife and birds in abundance.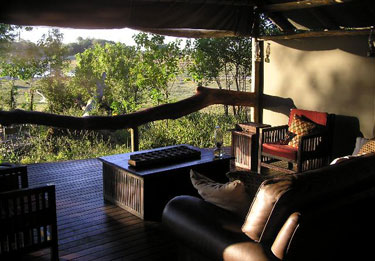 Kwara is located on a forested island in the remote northern part of the stunning Okavango Delta within the private Kwara concession. The camp fronts onto a huge floodplain, adjacent to the permanent water of the Delta and is backed by extensive bush. It is a magnificent wilderness area in excess of 1,700 square kilometer's, bordering the Moremi Game Reserve.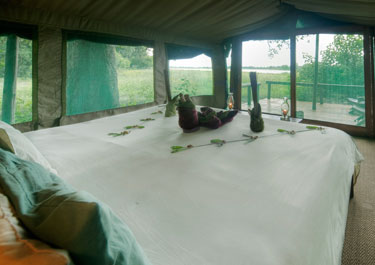 The eight luxury safari-style tents are built on raised decks, within a grove of huge ancient African Ebony trees. Each tent has its own viewing deck and private en-suite facilities. At Kwara, you will discover why the Okavango is considered one of the ecological wonders of Africa and indeed the world. It is mysterious, calming, unpredictable and very wild.

All year-round there are diverse wildlife experiences to enjoy, but the focus is definitely on the water. Whether gliding along in a mekora through crystal-clear waters or visiting the famous Godikew Lagoon, where you can stand on a boat literally eye to eye with hundreds of herons, storks and other nesting birds, Kwara offers a stunning experience of the Okavango.