The arid plateau region of the Kalahari covers a vast sector of southern Africa including parts of Botswana, Namibia, and South Africa. The Kalahari, covered largely by reddish sand, lies between the Orange and Zambezi Rivers and is studded with dry lakebeds. Annual rainfall varies from 127 mm in the south-west, where there are active sand dunes, to 508 mm in the north-east. Grass grows throughout the Kalahari in the rainy season, and some parts also support low thorn scrub and forest. Whilst the area is a wilderness area that supports the endemic wildlife, which lives in this vast region, it will also support grazing of stock animals and a little agriculture.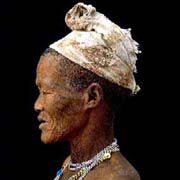 The area is the last outpost of the San, who are nomadic hunters, and Khoikhoi, who are hunters and farmers, Tswana and Herero herders have also moved into the area. The Kalahari has become a popular tourist destination with the Kgalagadi Transfrontier Park in South-West Botswana and Northern Cape, South Africa. One of Africa's largest game reserves, it is a sanctuary for the animals and birds of the Kalahari. The park combines South Africa's Kalahari Gemsbok National Park. and Botswana's Gemsbok National Park. A number of concessions operate within the Kalahari region and continue to grow the eco-tourism industry.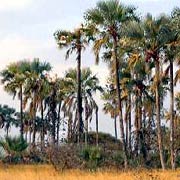 East of the Kalahari we find the Makgadikgadi Pans at the southern end of the Great Rift Valley that runs the length of Africa. The pans are also reputed to have once been part of the Zambezi Valley before geographical changes shifted the flow to its current course. The pans are a tremendous sight during the rainy season drawing plains game and water birds such as flamingos in large numbers. The archaeological history of the pans is of tremendous interest and provides a further reason to explore this remote part of Africa.