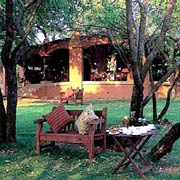 Botswana's Chobe National Park remains one of Africa's prime game viewing areas. Its close proximity to the world-renowned Victoria Falls makes it an essential part of any visit to the region. The charm of the Chobe is in its magnificent river; its floodplains filled with grazing herds of big game; the spectacle of flocks of waterfowl winging towards the sunset, and in knowing that this is one of Africa's greatest wildlife refuges.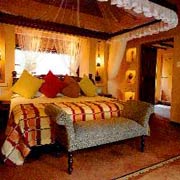 Chobe Chilwero, set on a hill overlooking the Chobe River floodplains is a small, intimate camp with eight twin-bedded, thatched bungalows with en suite facilities. The double-tiered central lounge and dining area commands a magnificent view of the Chobe floodplains.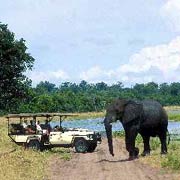 A friendly campfire awaits guests each evening, where tales are told of old and new. Solar lighting and video battery-charging facilities are available for guests.

Game viewing can be done by four wheel drive, open Land cruisers, or on a sunset river cruise in eight-seater powerboats accompanied by top professional guides who know the bush and the right moment for the best photo opportunity. The camp has a fully stocked bar, fine cuisine and personal service, emergency medical evacuation and worldwide communications.