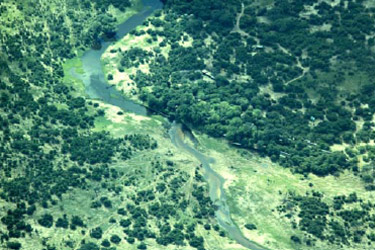 In the heart of Botswana's Chobe National Park, lies a dynamic wilderness, a sweeping expanse of savannah brooded over by seven rocky outcrops that guard a relic marsh and the dry channel that was once its lifeline. Mysterious wet and dry cycles mould this landscape and dictate the nature of its wild inhabitants. This is Savute and for the moment the channel is dry.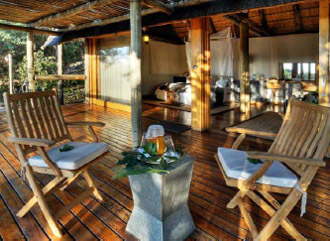 Savute Safari Lodge peers out from ancient camelthorn trees on the shore of the channel. The lounge, library and cocktail bar are situated in the exquisite thatch and timber main building, where an upstairs viewing deck allows Savute's enchanting sunsets to mesmerise guests.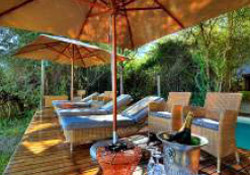 A large fireplace downstairs is equally inviting on winter nights, while the delicious aroma of dinner and the prospect of candlelit dining beckons guests to the elegant dining room. The lodge also boasts a swimming pool and shaded viewing deck, both of which overlook the channel, and where afternoon tea is served and guests can sit around the campfire after dinner.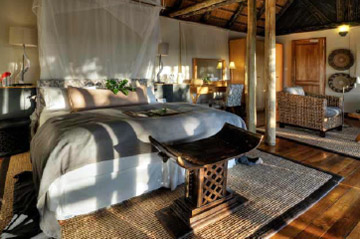 Twelve tastefully furnished twin-bedded luxury wood and thatch safari suites accommodating a maximum of 24 guests. The unique design of the suites with their spacious interior and large, glass sliding doors sets the lodge apart from typical safari accommodation. Private viewing decks and en-suite facilities combine luxury and comfort with a classic wilderness experience. Daily game drives in open 4 x 4 safari vehicles in the Savute area of the Chobe National Park, including the Savute Marsh and a visit to Gubatsa Hills and ancient San rock paintings.